Ergohuman Delivery Information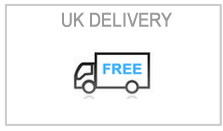 Ergohuman.net United Kingdom Delivery Schedule

FREE UK DELIVERY - NO HIDDEN CHARGES

Standard deliveries are made Monday to Friday, typically between 8.30am and 6pm.
(Ergohuman, Mirus, Nefil, Ergohuman Plus and Enjoy chair deliveries are often performed by 3.00 pm)
TIME
orders placed before 11am
COST
UK Mainland only
Chairs
2 to 7 working days
Free UK Delivery each
UK Delivery - Free Delivery to Mainland UK

Other areas
Ireland, Northern Ireland, the Highlands, Isle of Man and UK islands - Please call us for information on the delivery lead-time and cost.
Europe - We deliver to France, Belgium, Italy and Greece as well as other European countries. We offer very competitive carriage rates to Europe, in some cases the delivery cost is only slightly higher than the UK delivery prices. Please consult our DELIVERY TO EUROPE page for Delivery cost to France, Belgium, Italy, Greece and most European countries.
CHAIRS DELIVERY PROCESS
Within 24 hours of ordering we will email you a delivery date. (or on Monday, if you order over the week-end.)
If no one is available to receive the parcel(s) on the proposed date, just let us know and we will reschedule as required.

If you have ordered a chair or chairs that need to be manufactured, we will provide a delivery date estimate first.
Once the chair(s) is close to ready we will confirm an exact delivery date. All couriers deliveries should be signed for.

Delivery Time & Special Delivery (Chairs from Stock)
Delivery Speed for orders placed before 11am is estimated at 2 to 7 working days for most office chairs delivered to UK Mainland.
Next day delivery is available for some of the products, in some cases there may be an additional delivery charge for this service, please call to confirm.
Saturday delivery before 12pm is also available for some products at an additional charge. Deliveries are made Monday to Friday, typically between 9am and 5pm.
Please note that we cannot allocate an exact time of delivery. However, for some products we can request a preferred delivery date and we will do our very best to meet your requirements. On all of the Ergohuman and Enjoy chair ranges, in many cases deliveries are performed by 3pm. Please note that for items with a different delivery lead-time specified on the actual product page, this information will replace the above lead-time information.
Back Orders
In the eventuality of an item becoming out of stock, we will advise you of the new delivery time prior to placing a back order and you will also be offered the option of an alternative or a refund.
Return Policy
Most of our products are delivered in pristine condition, to ensure total satisfaction, please ensure that you inspect your item thoroughly upon delivery. In the eventuality that an item is faulty or damaged, we must be notified within 48 hours of delivery. In such case we will endeavour to replace the item, where possible. If the item you bought is discontinued or non-replaceable you will be offered to choose between an exchange or a refund. In all other cases of returns, the item must be in a sellable condition, in its original packaging and returned within 7 days of receipt, please do not return an item without contacting us first as, in most cases we will arrange the pick-up. Thereafter we will refund you with the selling price minus £27.50 + VAT per chair for collection and restocking.
Drop off point
Unless otherwise indicated, deliveries will be made to a reception or main entrance point of the building.
If there are special instructions please call us to confirm or specify this at the time of placing the order online.
Installation Service
In some cases an installation service is available at an additional charge. Please call us for more information.
Reaching us
Should you need more information about delivery, please don't hesitate to call us, alternatively send us an email , we are here to help:
Tel: 020 3600 0255 or International Tel: +44 (0)20 3600 0255
(Lines open from 9.00am to 6.00pm GMT)
UK VAT
Tax Charges For orders made from the UK: 20% VAT is added to the product price and the delivery cost.
Europe VAT
For orders from Europe (EU member states only) VAT is charged at the usual rate unless a valid company VAT number is provided, in this case we will not charge VAT. if your VAT number fails to validate when ordering online, try without the country letters as the country information is already included in your address.