ERGOHUMAN FOR THE HARDCORE GAMER
Enhance your game play with an Ergohuman chair:
Quality built with extensive recline function.

The Ergohuman chair surpasses racing gaming chairs who often lack adjustments and quality. Commonly, racing chairs have "bucket seats" inspired from basic car seats and fail to address the range of position and movement required for comfortable gaming. The Ergohuman in breathable mesh has a full range of adjustments: including seat slide, extensive recline, can be used in free-float or with the backrest locked in 4 positions, flexi lumbar support, adjustable headrest and 3D armrests to provide ultimate comfort during gaming sessions.
See our CHAIR PROMOTION for gamers below:
Direct links to view and order Ergohuman Chairs & request a Free Legrest Upgrade:
Ergohuman Elite mesh >
Ergohuman Elite leather >
For reference only 

Ergohuman Elite mesh with legrest >
Ergohuman Elite mesh with legrest and notebook articulated arm >
POLISHED ALUMINIUM BACK & LEGREST AND NOTEBOOK ARM OPTION shown above.
• Fits most postures and body sizes
• Is suitable for Intensive Seating, ideal for long game play use
• Allows you to sit both ergonomically and comfortably
• Adjustable for sitting at a desk or a more relaxed console gaming experience
• Encourages improved blood flow around the body
• Relieves joints and muscles especially in the lower back and neck region.
• Features breathable mesh that keeps you cool during intense gaming.
• Available with a fold out Leg rest for the ultimate reclined position.
• Optional notebook arm to support an Ipad, or Notebook or small Laptop when reclining
Available in full mesh, full leather or leather seat / mesh back.
Colours also available – contact us for details.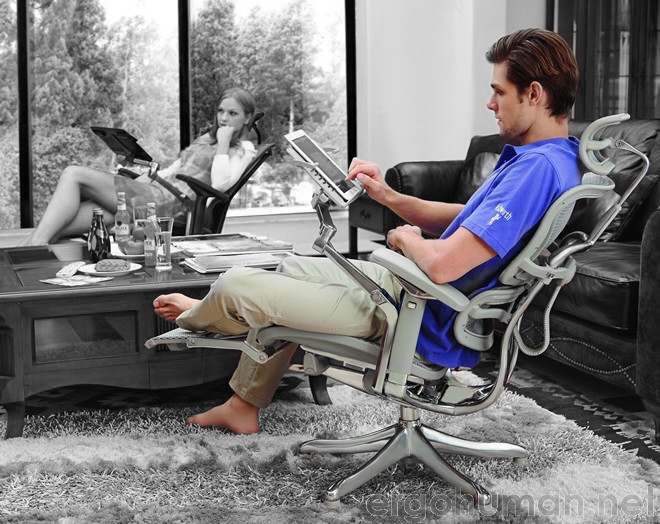 ERGOHUMAN PLUS GREY FRAME WITH LEG REST AND LAPTOP TABLE.
The perfect chair for intensive gaming (chair shown with glides)
The Ergohuman Elite Chair features promote comfort for Gaming:
✓ Single Lever Control (operates the three most frequently used chair functions from a single point of contact, seat height, seat depth and back tilt)
✓ Twin Pivot Control Mechanism
✓ Dual Spring technology
✓ Seat Slide
✓ Enhanced Waterfall Front Seats
✓ Seat Pressure Reduction Insets
✓ Automatic Lumbar support
✓ Locking Height, angle, width & depth Armrest adjustments
✓ All parts of the chair are replaceable and kept in stock for longer life-cycle
RECLINING GAMING CHAIR:
The high tech Ergohuman chair is designed to be adjustable for both sitting at a desk and for a more reclined console type gameplay position. All the chairs in the Ergohuman range recline further than most and offer an optional leg rest for total comfort and ergonomic support.
With the chair's 2:1 synchro tilt angle, the chair's seat tilts at half the angle of the back tilt – ensuring good posture and support is maintained no matter how far the user reclines.
With versatility and adjustability built in – the Ergohuman is the perfect gaming chair for committed gamers looking to enhance performance.
Ergohuman Leather Office Chair with Leg Rest
LONGEVITY & WARRANTY
✓ 10 years – Warranty Frame,
✓ 5 years – Warranty Mechanism and Armrests*
✓ 3 years – Warranty on Castors, Gas Lift, Mesh.
*Armpads are under wear and tear and available to order in our Spares section.
WATCH HUZZY'S REVIEW OF THE ERGOHUMAN CHAIR AFTER 3 MONTHS OF TESTING THE CHAIR.
(chair reviewed in the first 2 minutes)
MORE INFORMATION ABOUT THE GAMING ERGOHUMAN CHAIR & CLIENTS' REVIEWS:
Client's Reviews about the Ergohuman chairs >

Photos of Ergohuman with legrests >

Chairs adjustments >
Chairs measurements >

Chairs Colours Mesh >
Chairs Colours Leather >